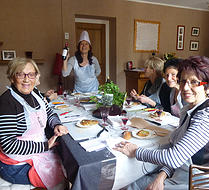 Cooking
The Roman cuisine is a rich and tasty recap of the ones from neighboring areas and other communities of Lazio, from Jewish to shepherds cuisines. A varied cuisine that survives the temporary fashions and tourism, keeping the genuineness of its products and the simplicity of the preparation. It's a rustic, every day cuisine, the same that one finds in the many "locande" and "trattorie" in the streets and alleys of Rome.
ROMAN COOKING COURSE
 
The classes are in Italian (laboratory course) and they last one week (from monday to friday/3 hours per day). You will learn the preparation of typical roman dishes: home made pasta, pastas and soups, meats and vegetables, desserts. Under request it is also possible to organize one day classes for the preparation of 3 classical roman dishes. Then, "Tutti a Tavola" (this is the italian expression when dinner is ready, and it means "everybody at the table")! We will enjoy our meal all together and...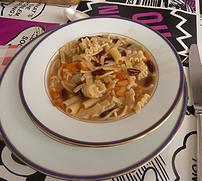 Buon Appetito!

 

Price of the cooking course:
15 h/w 400€ each person (3 people togther)/ 1490 € at teacher's home

Daily Classes (3 hours):
75,00 €/ 1 person
50,00 €/ 2 people
30,00 €/ 3 people

 

A comment :
Jacqueline Rocco, FRANCIA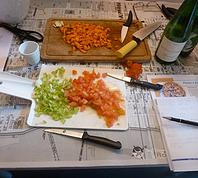 Ho avuto l'occasione di partecipare a molti corsi di lingua italiana di Lina, durante gli anni  2013 e 2014 in Francia. Ho trovato che i suoi corsi  intorno della cucina Italiana sono molti interessanti perché non si puo capire la lingua senza conoscere anche la sua cultura generale, e trovo che la cucina fa parte veramente di questa cultura.  Penso che è meglio di avere già una conoscenza della lingua per partecipare a questo tipo di corsi, per veramente apprezzare e avere la voglia di andare ancora più lontano.